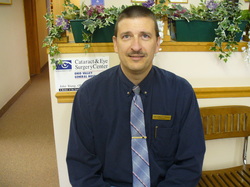 About Dr. John C. Young:
I graduated from Baldwin Whitehall High School in 1981. I went to the University of South Florida in Tampa, Florida, graduating in 1986 with a BS in Chemistry. I worked as a Research and Developement Chemist for 2 years before attending Indiana University School of Optometry from 1988 to 1992, where I recieved my Doctorate of Optometry. I moved back to Pittsburgh and started working as an Independent Optometrist within Wise Eyes Optical here in the Crafton Ingram Shopping Center in January 1993. In October of 2001, I purchased the Wise Eyes Optical and Incorporated as The Eye Guys, Inc.
About Tim Kengerski:
Tim has been the Optician here from the time the Wise Eyes opened in 1988. With 24 years of experience, he has become a Master Optician, I have seen him repair glasses that were run over by a car (no kidding).